Whether you are building a new home or remodeling your current home, our design experts are here to guide you through this complicated process.

Creating Your Dream Home
The Henry Poor Lumber design team of Linda Hausdorf and Pamela Wilkins has over 32 years of combined experience in the kitchen/bath design and remodeling industry. Whether it is a kitchen, bathroom, office, bedroom, or entertainment space, our team has the design and technical expertise to help you achieve that perfect balance of beauty and functionality within your target budget.
The Perfect Kitchen
Your kitchen is not only the "heart of your home", but a major investment that can result in a 60%-70% return on your investment. Partnering with one of our professionals ensures a kitchen plan that maximizes both storage and efficiency while incorporating timeless design and cutting-edge features.
A Stylish Master Bath
The master bathroom is a personal sanctuary where you begin and end each day. As such, this space deserves just as much attention as other rooms in your home. We pride ourselves on tailoring this space to fit your specific needs and daily routine with beauty and elegance.
Taking You Through Each Step of the Process
Linda and Pamela walk you through each step of the design, procurement and installation process.  They assure you that everything will be O.K. as they take care of the small details throughout your remodeling or new construction project.
Determine what kind of space you are working with
Understand how the space is to function
Determine the kitchen appliances and bathroom components
Do field measurements
Design and layout the space
Provide samples and details on the advantages of different materials and price considerations
Help select cabinet door styles, wood type and finish; trim; counter top material and design
Order product and coordinate delivery schedules
Provide any assistance contractors need when installing products
Follow up once the job is completed to make sure everything is done correctly.
Check Out Our Work
Linda remarked, "Helping our customers find just what they want and need gives Pamela and me a great deal of satisfaction.  We have products, like our Henry Poor custom cabinets that offer such a choice of colors, styles and sizes, that we can fit almost anyone's needs, at very affordable prices."
Check out some of our designs on Houzz.com (click on the icon below) to see a number of our latest projects.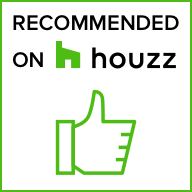 To contact our design specialists send them an email at Linda Hausdorf (lhausdorf@henrypoor.com) or Pamela Wilkins (pwilkins@henrypoor.com).
Linda Hausdorf
Linda Ragan states, "I really enjoy getting to know my customers and being able to design around their personal needs." Linda has been designing kitchens and baths for almost 18 years and has been helping Lafayette area homeowners and contractors with kitchen countertop, cabinets, flooring and color choices since joining Henry Poor in 2006.
Linda's approach is to educate the customer on all their options and then help pull it all together to make the end result something that meets her customer's needs and expectations. At times this has meant working with her suppliers to create special pieces that add the perfect touch to a new kitchen.
Linda is a native of the St. Louis area and is a diehard Cardinals fan. The mother of a son and daughter, she says her life outside of work revolves around her kid's schedules. Linda enjoys gardening and is a member of the Carroll County Garden Club.
Pamela Wilkins
Pamela Wilkins joined Henry Poor Lumber as a Kitchen and Bath Designer in 2014.  She has over 15 yrs. of experience in the interior design/home remodeling industry.
Along with Kitchen and Bath Design, Pamela's expertise includes lighting design, interior and exterior color schemes/materials, space planning, and a myriad of other design areas.
Pamela received her M.S. in Biology from Purdue University in 1993.  She worked in the Pharmaceutical/Biotech Industry in San Diego, CA before changing careers and returning to design school to receive a degree in interior design.
Pamela enjoys reading, gardening and spending time with her family, including her husband, four children and granddaughter.